This post is dedicated to
KEWP
and
BEP.
I turned them on to
Budget Living magazine.
Because they will be moving soon, they need decorating ideas and inspiration and items to covet for their new home.
I'm always seeking design inspiration or ideas and quirky/stylish/functional home goods. So here are some cool places I've found:
• I'm addicted to
design*sponge
. The blogger Grace features designerly items she fancies—furniture, home decor, paper products and more. Always with photos and links. Many of the featured items are out of my price range. However, I love seeing what is out there and what is possible, and I get ideas. I found out about cute
Anthropologie
drawer pulls of this variety:
•
Apartment Therapy
is aimed at New Yorkers, but even Midwesterners with five times the living space can find interesting info and ideas. Check out their
Smallest, coolest apartment contest.
It almost makes me want to get rid of all my crap and rent a studio. Almost.
• I've just recently starting stopping by
Land and Living,
which bills itself as a "modern lifestyle and design" blog.
• I like the quote at the top of the
UnBeige
page:
"You make something off-white or beige because you are afraid to use any color—because you don't want to offend anybody. But by definition, when you make something no one hates, no one loves it."
-Tibor Kalman
Amen. Again, not just stuff for the home but other designerly objects.
• I'm constantly calculating in my head the most efficient means of executing a task, be it work or mundane and trivial. For instance, in the bathroom in the morning, I will ride the potty ride, then take my medicines, then brush my teeth so the water has time to recuperate before I turn on the shower. Anyway,
MetaEfficient
is also obsessed with efficiency. They do product reviews of myriad household items, so the site is a good resource for a wide array of environmentally friendly home goods.
• I love
Craftster
for many reasons, one of which is adding a
interior decorating section.
It's where I found
this idea
: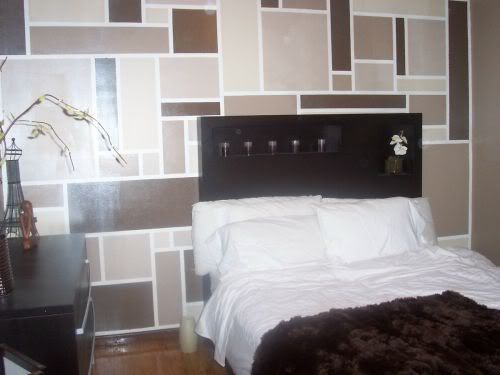 • The premise is great for
Digs online mag,
which is a "a home + living guide for the post-college, pre-parenthood, quasi-adult generation." But very spare on the pictures. Sorry, but I need photos for home and design sites.
A lot of the items these sites mention are out of my (and your) price range. But, as I said, I like to get ideas (and the optimism sometimes that I can make it myself. ha!) I think I'm a graduate of Ikea furniture by now though and would rather purchase some solid, nice pieces of furniture. A step beyond Ikea but not quite
Room & Board
is
West Elm.
I'm thinking of plunking down $200 for these:
Of course, nothing beats a good
free
trash find. Or a thrift store steal. And those options are definitely more environmentally friendly.